Bring your children and teens to the Edinburgh Festivals
---
Travelling to Edinburgh Festival Camping as a family? Visiting the Edinburgh Festivals is the way to bring your kids to the world through arts and culture! Here's the lowdown on what each festival offers to keep your kids and teenagers entertained this August 2019.
Edinburgh Art Festival (25th July – 25th August) Explorers is a programme during the Art Festival dedicated to children, families and young people. On offer will be creative workshops focusing on different artists to free outdoor art workshops involving play, woodland games, and art activity.
Edinburgh Military Tattoo (2nd – 24th August) A global sensation with military and cultural acts from across the world, incredible musicians and exciting choreography. Young and old have been attending this inspirational, sell out show for last 20 years.
Edinburgh International Festival (2nd – 26th August) The Canadian dance company Cas Public will be holding family workshops, for families with children aged 7-12, inspired by their show titled "9".
Edinburgh Fringe (2nd to 26th August) The biggest celebration of arts and culture worldwide! With 165 shows specially catering for kids, you'll have no problem finding a show suitable for your family. You can easily browse the Fringe shows under the "Children's Shows" category on their website, including free shows and those offering "2 for 1" tickets!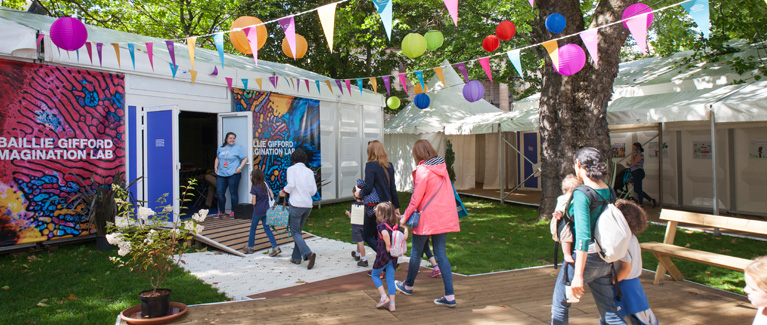 Edinburgh International Book Festival (10th-26th August) is the largest public celebration of books on the planet! While EdBookFest caters for all ages, the younger of those among us will be spoilt for choice with over 200 events for tots to teens (0-18yo). These will include interactive workshops and fun performances with top authors and illustrators from across the world. There will be free entry to the book festival village and lots of free things for kids and families, like craft, storytelling and sing-alongs.
Book your accommodation at Edinburgh Festival Camping and have your fantastic family Edinburgh experience this August. Pack the kids up and head on up – it's all waiting for you. We'll see you soon!

Keep an eye out for our weekly top picks for the upcoming shows during the Festivals!